Blink Blank – n°2 – autumn/winter 2020
Blink Blank – n°2 – autumn/winter 2020
First French-language magazine dedicated to the art of animation !
160 abundantly illustrated pages to report on world animation in all its diversity and creativity.
• A 160-page mook-style magazine (19.5 x 24.7 cm) dedicated to the art of animation.
• A collectable magazine published twice a year.
• A reference review, written by specialists and by the artists themselves.
• A co-edition NEF Animation, Cinémathèque québécoise and WARM.
To subscribe to Blink Blank's newsletter : online form
To follow Blink Blank's news online : https://revue-blinkblank.com/

If you want to order n ° 1 in addition to n ° 2, consider taking out a subscription (shipping costs offered for mainland France or reduced for overseas territories and overseas).
In bookstores on October 2, 2020 - 19,5x24,7 cm à la française - 160 pages - ISBN 978-2-9568325-2-2 - Retail price : € 20
Flip through a few pages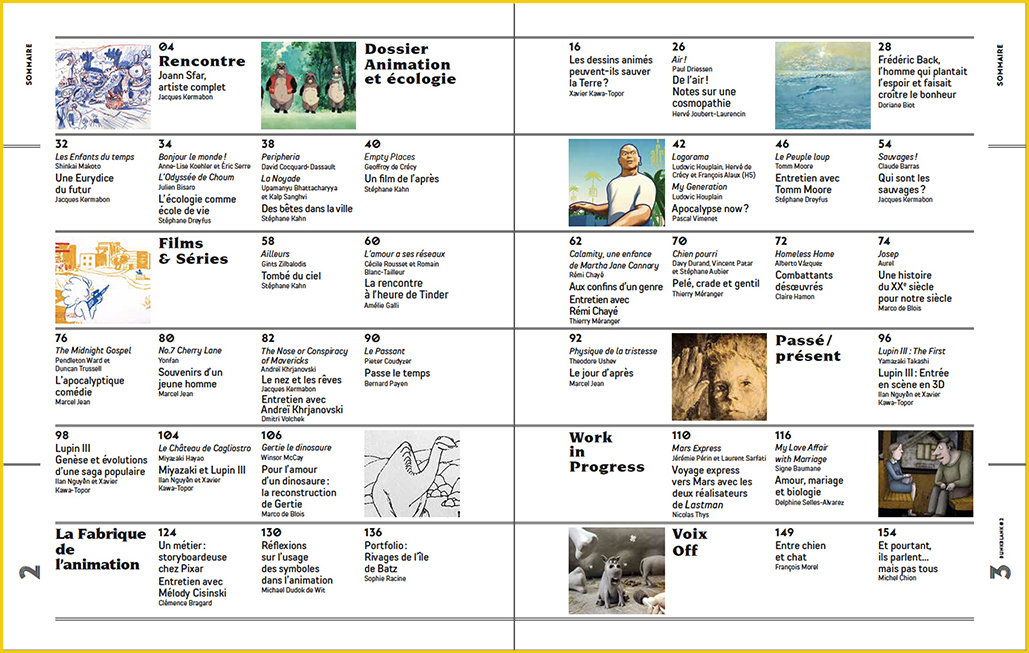 Contents of n° 2
Editor-in-chief's editorial, Jacques Kermabon
RENCONTRE :
Joann Sfar, artiste complet - par Jacques Kermabon
DOSSIER : Animation et écologie
Les dessins animés peuvent-ils sauver la Terre ? - par Xavier Kawa-Topor
Air ! de Paul Driessen
De l'air ! Notes sur une cosmopathie - par Hervé Joubert-Laurencin
Frédéric Back, l'homme qui plantait l'espoir et faisait croître le bonheur - par Doriane Biot
Les Enfants du temps de Shinkai Makoto
Une Eurydice du futur - par Jacques Kermabon
Bonjour le monde ! d'Anne-Lise Koehler et Éric Serre
L'Odyssée de Choum de Julien Bisaro
L'écologie comme école de vie - par Stéphane Dreyfus
Peripheria de David Cocquard-Dassault
La Noyade de Upamanyu Bhattacharyya et Kalp Sanghvi
Des bêtes dans la ville - par Stéphane Kahn
Empty Places de Geoffroy de Crécy
Un film de l'après - par Stéphane Kahn
Logorama de Ludovic Houplain, Hervé de Crécy et François Alaux (H5)
My Generation de Ludovic Houplain
Apocalypse now ? - par Pascal Vimenet
Le Peuple loup de Tomm Moore
Balade spirituelle dans le folklore celtique - par Stéphane Dreyfus
Entretien avec Tomm Moore - par Stéphane Dreyfus
Sauvages ! de Claude Barras
Qui sont les sauvages ? - par Jacques Kermabon
FILMS & SÉRIES
Ailleurs de Gints Zilbalodis
Tombé du ciel - par Stéphane Kahn

L'amour a ses réseaux de Cécile Rousset et Romain Blanc-Tailleur
La rencontre à l'heure de Tinder - par Amélie Galli
Calamity, une enfance de Martha Jane Cannary de Rémi Chayé
Aux confins d'un genre - par Thierry Méranger
Entretien avec Rémi Chayé - par Thierry Méranger
Chien pourri de Davy Durand, Vincent Patar et Stéphane Aubier
Pelé, crade et gentil - par Thierry Méranger
Homeless Home d'Alberto Vázquez
Combattants désœuvrés - par Claire Hamon
Josep d'Aurel
Une histoire du XXe siècle pour notre siècle - par Marco de Blois
The Midnight Gospel de Pendleton Ward et Duncan Trussell
L'apocalyptique comédie - par Marcel Jean
No.7 Cherry Lane de Yonfan
Souvenirs d'un jeune homme - par Marcel Jean
The Nose or Conspiracy of Mavericks d'Andreï Khrjanovski
Le nez et les rêves - par Jacques Kermabon
Écrasés par la botte de Staline. Entretien avec Andreï Khrjanovski - par Dmitri Volchek
Le Passant de Pieter Coudyzer
Passe le temps - par Bernard Payen
Physique de la tristesse de Theodore Ushev
Le jour d'après - par Marcel Jean
PASSÉ PRÉSENT
Lupin III
Lupin III : The First de Yamazaki Takashi
Lupin III passe en 3D - par Ilan Nguyên et Xavier Kawa-Topor
Lupin III, une saga populaire - par Ilan Nguyên et Xavier Kawa-Topor
Le Château de Cagliostro de Miyazaki Hayao
Miyazaki & Lupin III - par Ilan Nguyên et Xavier Kawa-Topor
Gertie le dinosaure de Winsor McCay
Pour l'amour d'un dinosaure : la reconstruction de Gertie - par Marco de Blois

WORK IN PROGRESS
Mars Express de Jérémie Périn et Laurent Sarfati
Voyage express vers Mars avec les deux réalisateurs de Lastman - par Nicolas Thys
My Love Affair with Marriage de Signe Baumane
Amour, mariage et biologie - par Delphine Selles-Alvarez
LA FABRIQUE DE L'ANIMATION
Un métier : storyboardeuse chez Pixar
Entretien avec Mélody Cisinski - par Clémence Bragard
Réflexions sur l'usage des symboles dans l'animation - par Michael Dudok de Wit
Sophie Racine : Rivages de l'île de Batz – portfolio
VOIX OFF
Entre chien et chat - par François Morel
Et pourtant, ils parlent… mais pas tous - par Michel Chion
Additional information
| | |
| --- | --- |
| Weight | 0.48 kg |
| Dimensions | 1.2 × 24 × 32 cm |
You might be interested in