What a joy to see the book Paysage(s) published in partnership with the association Lecture en tête (Laval), on the occasion of the 10 years of writing residency in Mayenne!
For the record, WARM was only two years old when Lecture en Tête offered us this project which we planned 3 years later. An encouraging mark of confidence for which we are grateful to Céline Benabès, Anne-Sophie Denou and the beautiful team of enthusiasts who surround them, as well as to the authors who, while accepting the constraints specific to this collective project, have succeeded in make their singular voice heard.
* * *
Paysage(s)is a collection of unpublished short texts by Wilfried N'Sondé • Virginia Bart • Jaunay Clan • Violaine Bérot • Velibor Čolić • Makenzy Orcel • Marlène Tissot • Olivier Maulin • Charles Robinson • Denis Michelis • Préface de Carole Martinez
"To offer landscapes to talented authors, to install them there for a while, is to let a world infuse in their eyes. Distillers of vintages, distillers of words, they panic our senses, they intoxicate us by transforming space into sentences. They distilled autumn and winter landscapes, agricultural, wild, urban landscapes, they swallowed, devoured, distorted. They mingled with these places, to offer us what their sensitivity, their imagination, their dreams, have drawn from them. These few texts are chimeras, half-men, half-landscapes. »Carole Martinez
This book is published in partnership with the association Lecture en Tête on the occasion of the ten years of the writing residency that it is organizing in Mayenne.
Share on social networks :
These articles may interest you …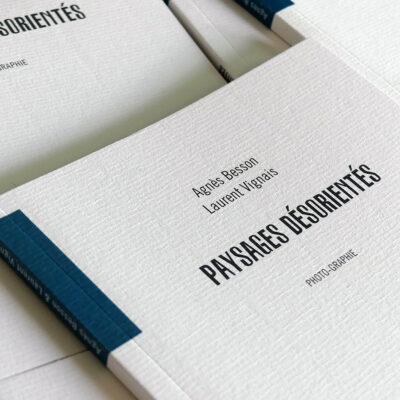 In the fall of 2021, our Photo-Graphie collection welcomes a newcomer: Paysages désorientés, a new...